Standing next to Tokyo Tower, Zojoji Temple (増上寺, Zōjōji) is the head temple of the Jodo sect of Japanese Buddhism in the Kanto Region.
The temple was built in the year 1393 and moved to its present location in 1598 by Tokugawa Ieyasu who selected it as his family temple. A mausoleum of the Tokugawa family can be found on the temple grounds. Most of Zojoji's buildings are recent reconstructions except for the main entrance gate, the Sangedatsumon, which has survived the many past fires, earthquakes and wars and dates from 1622.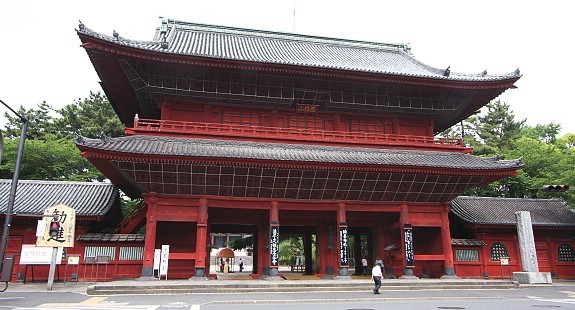 Sangedatsumon Gate
Get There and Around
The closest subway stations are Onarimon or Shibakoen Station on the Mita Subway Line and Daimon Station on the Oedo Subway Line. The temple can also be reached in a ten minute walk from Hamamatsucho Station on the JR Yamanote and JR Keihin-Tohoku Line.
Orientation in Tokyo