Sengakuji (泉岳寺) is a small temple near Shinagawa Station in Tokyo. The temple is famous for its graveyard where the "47 Ronin" (also known as Akoroshi, the "masterless samurai from Ako") are buried.
The story of the 47 loyal ronin (see below) remains one of the most popular historical stories in Japan, and many people visit the temple in order to pay respect to the Akoroshi by burning incense sticks (senko) in the graveyard. A small museum commemorating the 47 ronin can also be found at Sengakuji.
December 14 is the anniversary of the 47 ronin's avenge. A festival is held annually at Sengakuji to commemorate the event, attracting thousands of visitors. The small graveyard becomes very crowded and smoky during the festival, and many festival foods such as Okonomiyaki and Takoyaki can be enjoyed at temporarily constructed food stands.
Sengakuji on the 300th anniversary of the avenge
The Story of the 47 Ronin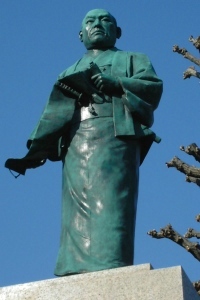 Oishi Kuranosuke, the leader
of the 47 ronin
In March 1701, lord Asano Takuminokami of Ako (today's Hyogo Prefecture) attacked lord Kira Hozukenosuke at Edo castle. Asano lost patience after repeatedly being provoked and treated arrogantly by Kira, but failed to kill him in the attack. On the same day, Asano was sentenced to commit seppuku (ritual suicide), while Kira was not punished at all, despite the contemporary custom of punishing both parties in similar incidents. In addition, the whole Asano family was removed from power, leaving Asano's samurai without a job and a strong will to avenge their unfairly punished master.For over one and a half year, the samurai prepared the avenge under difficult circumstances. On December 14, 1702, the remaining group of 47 ronin under their leader Oishi Kuranosuke finally succeeded to avenge their master by killing lord Kita in his mansion. Afterwards, they carried Kira's head to Sengakuji, and were later sentenced to commit seppuku.
The story of the 47 ronin became highly popular as a kabuki play during the Edo Period, and remains very popular today in Japan where loyalty, endurance and will power remain highly respected characteristics.
Get There and Around
The temple is a few steps from Sengakuji Station on the Toei Asakusa Subway Line. Alternatively, you can walk there from either Shinagawa or Tamachi Station on the JR Yamanote Line in about 15-20 minutes.
Orientation in Tokyo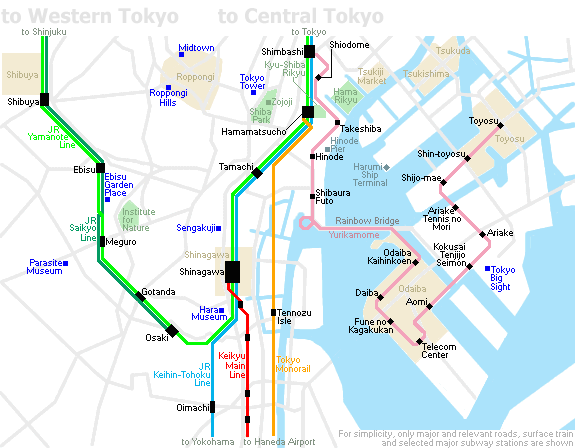 Hours and Fees
Hours
7:00 to 18:00 (until 17:00 from October to March)
The memorial museum is open from 9:00 to 16:30 (until 16:00 from October to March)