Odaiba (お台場) is a popular shopping and entertainment district on a man made island in Tokyo Bay. It originated as a set of small man made fort islands (daiba literally means "fort"), which were built towards the end of the Edo Period (1603-1868) to protect Tokyo against possible attacks from the sea and specifically in response to the gunboat diplomacy of Commodore Perry.
More than a century later, the small islands were joined into larger islands by massive landfills, and Tokyo began a spectacular development project aimed to turn the islands into a futuristic residential and business district during the extravagant 1980s. But development was critically slowed after the burst of the "bubble economy" in the early 1990s, leaving Odaiba nearly vacant.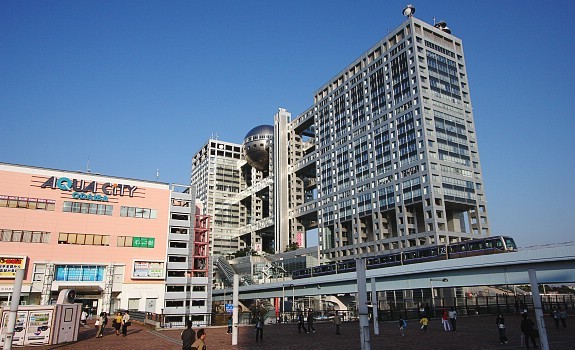 Aquacity and the Fuji TV Building
It was not until the second half of the 1990s, when several hotels, shopping malls and the Yurikamome elevated train line were opened, that Odaiba developed into one of Tokyo's most popular tourist attractions and date spots with a wide selection of shopping, dining and leisure options.
Despite the initial setbacks, several lavish development projects did materialize, including some of Tokyo's boldest architectural creations, such as the Fuji TV Building, Telecom Center and Tokyo Big Sight. Modern city planning furthermore provides Odaiba with plenty of green space and a pleasant division of motorized and pedestrian traffic using elevated walkways and the like.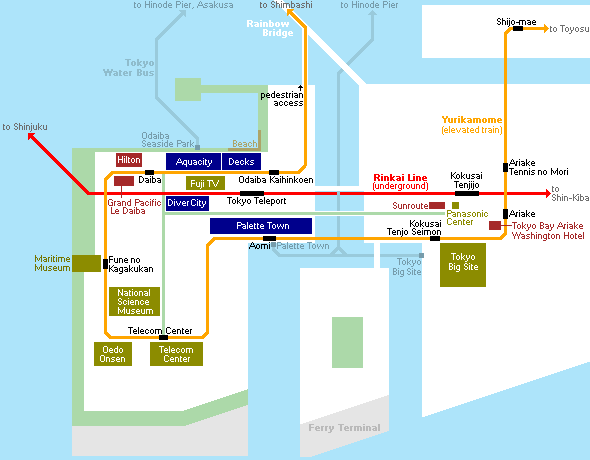 Fuji TV Area
Fuji TV Building
Hours: 10:00 to 18:00 (some restaurants until 20:00, 22:00 on weekends)
Closed: Mondays (or Tuesday if Monday is a national holiday).
Admission: Free (observation deck: 550 yen)

The headquarters of Fuji Television, one of Japan's private, nationwide TV stations. You can see some exhibits on popular programs, buy Fuji TV goods at a shop and access the futuristic looking building's observatory deck housed in the sphere shaped part of the building.
Decks Tokyo Beach
Shops: 11:00 to 21:00
Restaurants: 11:00 to 21:00 (some restaurants until 24:00)
Theme Parks: various hours
Closed: No closing days
Admission: Free (separate admission fees for theme parks)

Decks is a shopping mall featuring various stores, restaurants and multiple indoor theme parks, including the Tokyo Joypolis (reopened in July 2012 after renovations), a Legoland Discovery Center, a Madam Tussauds wax museum and a trick art museum. A Hong Kong themed food theme park and the Muscle Park were closed in 2010.
Aquacity Odaiba
Hours: 11:00 to 21:00
Restaurants: 11:00 to 23:00 (some restaurants until 4:30)
Closed: No closing days

Aquacity is a shopping mall featuring various stores, boutiques, restaurants, cafes and a 13 screen cinema complex. The fifth floor houses a ramen food theme park where you can try different ramen from all over Japan. There are nice views of the Rainbow Bridge from the wooden deck in front of Aquacity and neighboring Decks.
DiverCity Tokyo Plaza
Shops: 10:00 to 21:00
Restaurants: 11:00 to 23:00
Gundam Front Tokyo: 10:00 to 21:00, 1200 yen
Closed: No closing days

This shopping, dining and entertainment complex opened in 2012. Its most unique attraction is the Gundam Front Tokyo with various attractions and a shop centered around the anime series' robots. A "life sized" Gundam statue stands in front of the building.
Rainbow Bridge

The Rainbow Bridge connects Odaiba to the rest of Tokyo. The two story bridge is an iconic symbol of the bay and is especially beautiful during its nightly illumination. The bridge supports an expressway, a regular road, the Yurikamome train line and pedestrian walkways along both sides.
Telecom Center Area
Telecom Center
Observation Deck:
15:00 to 21:00 (weekdays)
11:00 to 21:00 (weekends and national holidays)
Closed: Mondays (following day if Monday is a holiday)
Admission: 500 yen

The Telecom Center is a major hub on the information highway with several large satellite antennas on its observation deck. The observation deck also offers nice view of the bay area and as far as Mount Fuji on clear days.
Museum of Maritime Science
Main building closed indefinitely for renewal, ships remain open
Hours: 10:00 to 17:00 (entry until 16:30)
Closed: Mondays (or next day if Monday is a holiday), Dec 27 to Jan 3
Admission: Free entry to ships during renovation

This museum looks like a large cruise ship docked along the Odaiba waterfront. The main building with exhibits on the history and technology of ships and shipping is currently closed for renovation. In the meantime, a mini museum has been set up with a portion of the museum collection on display. Outside you can board two real ships that are permanently docked next to the museum.
National Museum of Emerging Science
Hours: 10:00 to 17:00
Closed: Tuesdays and December 28 to January 1
Admission: 620 yen

Also known as the Miraikan, this well done, highly interactive and bilingual science museum includes exhibits about environmental issues, robots (starring Asimo among others), information technology, biology and space exploration.
Oedo Onsen Monogatari
Open: 11:00am to 9:00am (entry until 7:00am)
Closed: Early closure at 23:00 once per month for cleaning
Admission: 2480 yen (1980 yen after 18:00). Additional 200 yen on weekends and holidays. Additional 2000 yen overnight fee after 2:00.

Opened in 2003, Oedo Onsen is a hot spring theme park which reproduces the atmosphere of the Edo Period. Here you can enjoy various types of indoor and outdoor baths which are fed by hot spring water pumped from a depth of 1400 meters. Restaurants, massage, games and other entertainment, as well as overnight stays are available.
Palette Town
Palette Town is a large shopping and entertainment complex consisting of the Venus Fort shopping mall, Toyota Mega Web, a Ferris Wheel, the Zepp Tokyo music venue and Tokyo Leisureland.
Venus Fort
Hours: 11:00 to 21:00
Restaurants: 11:00 to 23:00
Closed: No closing days
Admission: Free

Venus Fort is a shopping mall in the style of a 18th century South European town. The mall features over a hundred shops, fashion boutiques, cafes and restaurants on three floors including a few outlets shops on the upper floor.
Toyota Mega Web
Hours: 11:00 to 21:00 (some attractions end 1-3 hours earlier)
Closed: Small number of irregular closing days
Admission: Free (test rides: 300 yen)

Mega Web is a giant Toyota showroom that shows off all of Toyota's latest models, car accessories and technologies. Attractions include test driving of cars (requires driving license valid for Japan) and a museum exhibiting cars from past decades.
Ferris Wheel
Hours: 10:00 to 22:00 (until 23:00 on most Fridays, Saturdays)
Closed: No closing days
Admission: 920 yen (entire cabin: 3080 yen)

This 115 meter tall ferris wheel is one of the world's largest and offers nice views of Tokyo Bay and Odaiba below. Each cabin seats six (or four in the all-glass cabins), and the complete revolution takes about 15 minutes.
Leisureland
Hours: 10:00 to 23:50 (some parts open 24 hours)
Closed: No closing days
Admission: Free (attractions are paid)

This huge entertainment complex features a large game arcade, bowling alleys, slots, batting cages, karaoke, darts, table tennis and sports games. There is also a ninja illusion house, a haunted house and food court.
Big Sight Area
Tokyo Big Sight

Hours and admission fees depend on the specific events.

Also known as Tokyo International Exhibition Center, Tokyo Big Sight is Japan's largest exhibition and convention center and one of the bay islands' boldest architectural creations. A wide array of events are held at the Big Sight throughout the year including the Tokyo International Anime Fair, the Comiket comic fair and the Tokyo Motor Show.
Panasonic Center
Hours: 10:00 to 18:00 (entry to Risupia until 17:00)
Closed: Mondays (or Tuesday if Monday is a holiday), New Year holidays
Admission: Free (Risupia: 500 yen)

The Panasonic Center is a showroom for the latest products and technologies by the Panasonic Corporation. On display are the newest cameras, TVs, computers, Nintendo games, home appliances and more. The third floor is Risupia, a hands-on math and science museum.
Get There and Around
Access to Odaiba can be an attraction in itself, as the views of the Rainbow Bridge and Tokyo's harbor and waterfront area from the Yurikamome elevated train and boats are quite spectacular. Furthermore, it is also possible to walk across the Rainbow Bridge.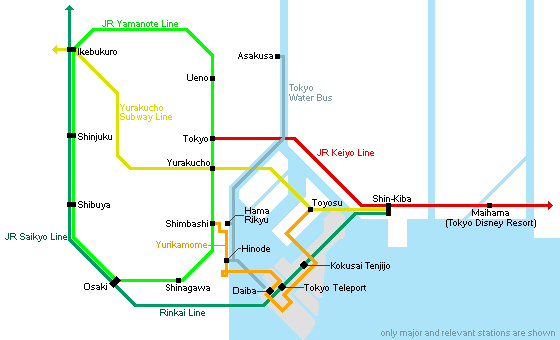 By Yurikamome
The Yurikamome is an automated, elevated train with rubber tires, which connects Shimbashi Station on the Yamanote Line with all of Odaiba's attractions and Toyosu Station on the Yurakucho Subway Line. Trains depart every few minutes, and a ride between Shimbashi and Daiba Station takes 15 minutes and costs 320 yen. If you ride the Yurikamome more than twice, a 1-day pass for 820 yen is likely to pay off. The Yurikamome is not covered by the Japan Rail Pass.
The Yurikamome crosses the Rainbow Bridge to get to Odaiba and offers spectacular views of the harbor and the Tokyo waterfront. Sit or stand at the very front of the train for the most impressive views.
By Rinkai Line
The Rinkai Line connects Osaki Station on the JR Yamanote Line with Shin-Kiba Station on the JR Keiyo Line, stopping at the Tokyo Teleport and Kokusai Tenjijo underground stations on Odaiba along the way. Some trains on the JR Saikyo Line continue to run on the Rinkai Line and provide direct connections between Shinjuku, Shibuya and Odaiba.
The ride from Shinjuku to Tokyo Teleport Station on Odaiba takes 25 minutes and costs 500 yen. Note that the Japan Rail Pass, Seishun 18 Kippu and similar JR tickets are not valid on the Rinkai Line between Osaki and Shin-Kiba, even though the line is served by JR trains.
By boat
Tokyo Water Bus operates boats between Odaiba Seaside Park and Hinode Pier (20 minutes, 480 yen, 1-2 boats per hour), where there are connections to Asakusa. Direct boats connect Asakusa and Odaiba less frequently (50 minutes, 1560 yen). Furthermore, there are boats from Hinode Pier to Palette Town and Tokyo Big Sight (25-35 minutes, 410 yen, one boat per hour except Mondays and Tuesdays).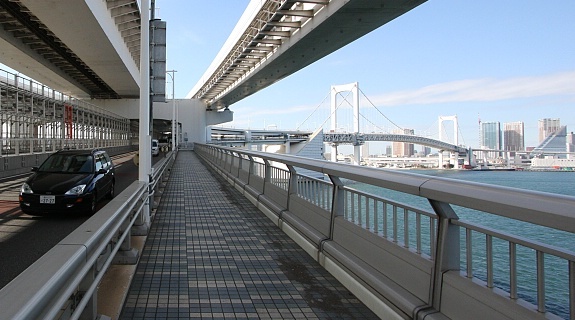 Crossing Rainbow Bridge on foot
On foot
It is possible to cross the Rainbow Bridge on foot. The walk across takes about 30-45 minutes and offers nice views of the waterfront area. The pedestrian path begins a short walk from Shibaura-futo Station along the Yurikamome on the "Tokyo side" of the bridge, while Odaiba Kaihinkoen Station is the nearest station on the "Odaiba side". Bicycles are not allowed.
Note that the pedestrian walkways gets closed during the night (21:00 to 9:00 from April to October, 18:00 to 10:00 from November to March), on the third Monday of every month, from December 29 to 31, during the Tokyo Bay Fireworks Display and during bad weather.
Orientation in Tokyo