Akihabara (秋葉原), also called Akiba after a former local shrine, is a district in central Tokyo that is famous for its many electronics shops. In more recent years, Akihabara has gained recognition as the center of Japan's otaku (diehard fan) culture, and many shops and establishments devoted to anime and manga are now dispersed among the electronic stores in the district. On Sundays, Chuo Dori, the main street through the district, is closed to car traffic from 13:00 to 18:00 (until 17:00 from October through March).
Akihabara has been undergoing major redevelopment over the years, including the renovation and expansion of Akihabara Station and the construction of new buildings in its proximity. Among these newly opened buildings were a huge Yodobashi electronics store and the Akihabara Crossfield, a business complex with the aim of promoting Akihabara as a center for global electronics technology and trade.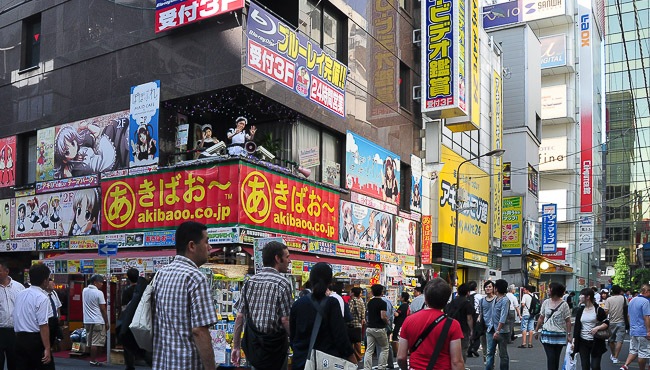 Side streets lined by electronics shops and maid cafes
Electronics
Hundreds of electronics shops, ranging from tiny one man stalls specializing in a particular electronic component to large electronics retailers, line the main Chuo Dori street and the crowded side streets around Akihabara. They offer everything from the newest computers, cameras, televisions, mobile phones, electronics parts and home appliances to second-hand goods and electronic junk.
A few chain stores such as Sofmap and Laox each operate multiple specialized branches along the main roads, while small independent shops can be found in the side streets. The only mega sized store is the Yodobashi Camera complex on the east side of the station.
Note that some of the electronics on sale are only intended for use in Japan due to voltage and other technical differences, Japanese language documentation and limited warranties. However, several stores also feature a selection of international models intended for overseas use, and most also offer tax free shopping to foreign tourists.
Game center and vending machines selling soft drinks and canned oden
Otaku Goods
The character of Akihabara has constantly changed over the decades and continues to do so. In the last decade Akihabara has emerged as a center of Japanese otaku and anime culture, and dozens of stores specializing in anime, manga, retro video games, figurines, card games and other collectibles have filled the spaces between the electronics retailers.
In addition to shops, various other animation related establishments have become popular in the area, particularly maid cafes where waitresses dress up and act like maids or anime characters, and manga cafes (manga kissa), a type of internet cafe where customers can read comics and watch DVDs in addition to having access to the internet.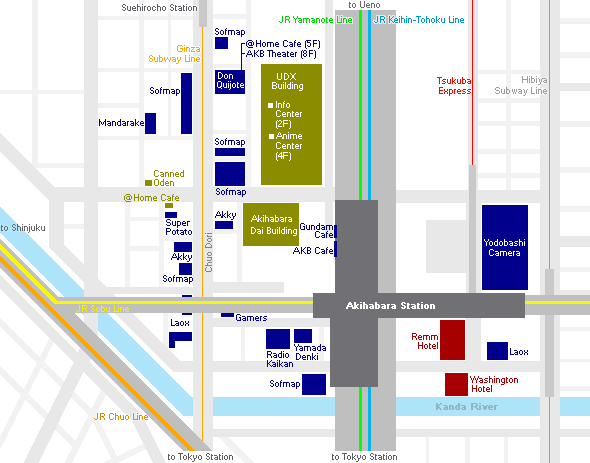 Major Electronics Stores
Sofmap
Hours: 11:00 to 21:00 (some branches have different hours)
Closed: No closing days

Sofmap operates 12 shops around Akihabara. In addition to their main store, they have many specialty branches that feature a type of item such as Apple products, CDs or games, as well as a number of outlets for used products such as used computers, cameras, CDs and software.
Laox
Hours: 10:00 to 19:00 (some branches have different hours)
Closed: No closing days

Operating three stores in Akihabara, including the Main Store and Pocket Plus One mobile products store that both sell tax free items, as well as the Musicvox branch specializing in musical instruments and Asobitcity branch that carries hobby and game related products.
Yamada Denki
Hours: 10:00 to 22:00
Closed: No closing days

Yamada Denki operates a "LABI" store just across the street from the Akihabara Electric Town exit of JR Akihabara Station. It specializes in personal computers, pc accessories and household electronics.
Akky
Hours: 9:30 to 20:00
Closed: No closing days

Akky specializes in tax free goods and operates two shops around Akihabara Station. Akky sells a variety of electronic equipment for overseas use, including cameras, computers, televisions, DVD players and software. Some branches carry used or refurbished items.
Yodobashi Camera
Hours: 9:30 to 22:00
Restaurants: 11:00 to 23:00
Closed: No closing days
The Shinjuku based discount electronic store giant Yodobashi Camera opened its huge Akihabara branch in September 2005. Unlike most other electronic shops, it is located on the east side of Akihabara Station. This branch offers one stop shopping for computers, games, watches and cameras, and sells tax free and international models.
Otaku Attractions
Maid Cafes

Maid cafes are cosplay themed restaurants where guests are served by waitresses that are typically dressed as French maids. In addition to serving food, the maids engage in conversation and games with the customers and treat them with the care and respectful language due to the master of a house. Maid cafes are popular with both men and women, and some cafes, like the @Home Cafe, offer English speaking maids.
Tokyo Anime Center
Hours: 11:00 to 19:00
Closed: Mondays (or Tuesday if Monday is a national holiday)

The Tokyo Anime Center is found on the fourth floor of the UDX Building of Akihabara Crossfield. It stages anime related exhibitions, hosts anime related events and contains a shop selling toys, stationery and other souvenirs.
Don Quijote
Hours: 10:00 to 5:00
Closed: No closing days

Don Quijote is a discount store chain that carries everything from groceries and toys to electronics and high end fashion goods. The Akihabara branch is home to the girl pop group AKB48, who perform daily shows at their theater on the 8th floor of the store (3000 yen). There is also a branch of the @Home Cafe maid cafe on the 5th floor of the store.
Radio Kaikan

Hours: 10:00 to 20:00

Radio Kaikan is one of Akihabara's iconic landmarks, and features more than 30 stores selling electronics and other anime related goods. Some of the famous stores include K-Books, Kaiyodo and Volks which sell all kinds of manga, models, toys, trading cards, figurines and collectibles. The building was torn down in 2011, was rebuilt, and reopened its doors in 2014 as a taller, ten story building.
Super Potato
Hours: 11:00 to 20:00 (from 10:00 on weekends and national holidays)
Closed: No closing days

Super Potato sells all types of video games and video game consoles, and specializes in retro systems and games. Here you can find practically every game system ever produced along with a huge selection of used game cartridges, discs and game accessories.
Gamers
Hours: 9:00 to 22:00 (upper floors 10:00 to 21:00)
Closed: No closing days

Gamers sells a wide range of anime and manga related goods including movies, video games, CDs, stationery, software and character goods.
Mandarake
Hours: 12:00 to 20:00
Closed: No closing days

Mandarake, the self described "largest manga and anime shop in the world", operates a large branch in Akihabara. Specializing in pre-owned goods, it is a good place to find rare and collectible manga, figurines, dolls, posters, CDs, toys and other types of manga related goods.
Gundam Cafe
Hours: 10:00 to 22:30
Closed: No closing days

The Gundam Cafe is themed after the extremely popular Mobile Suit Gundam anime series. The cafe serves gundam themed dishes and is decorated with art and themes from the series. A gift shop is attached and sells character goods and souvenirs.
AKB48 Cafe and Shop
Restaurant: 11:00 to 22:00 (longer hours on Fridays, weekends and holidays)
Shop: 11:00 to 22:00 (longer hours on Fridays, weekends and holidays)

The AKB48 Cafe next door to the Gundam Cafe is a themed restaurant based on the popular idol group AKB48. The cafe serves food inspired by the idols, and character goods are sold at the attached shops. The cafe has a theater where a rotating cast of AKB members perform daily (reservations required) during scheduled performance times.
Other Attractions
Akihabara Crossfield
Info Center: 11:00 to 17:30
Closed: Mondays, Thursdays and New Year holidays

The Akihabara Crossfield complex consists of the Akihabara Dai Building and the UDX Building. The lower floors have shops and restaurants, while the upper floors aim to be the "global center for the IT industry" and accommodate offices, conference space and showrooms. The second floor of the UDX Building houses the Akiba Info Center while the fourth floor is home to the Tokyo Anime Center.
Get There and Around
Akihabara Station is a busy station served by the JR Yamanote Line, JR Keihin-Tohoku Line, JR Sobu Line, the Tsukuba Express and the Hibiya Subway Line. Suehirocho Station on the Ginza Subway Line is located around the northern end of the district.
From Tokyo Station
Akihabara is two stations north of Tokyo Station by JR Yamanote or Keihin-Tohoku Line. The trip takes about three minutes and costs 140 yen. During weekday daytime, the Keihin-Tohoku Line skips the station between Tokyo and Akihabara, which shaves off a few more seconds from the travel time.
From Shinjuku Station
Take the JR Chuo Line (orange colored rapid service) from Shinjuku to Ochanomizu Station (10 minutes) and make a quick and easy transfer to the JR Sobu Line (yellow colored local service) for one more station to Akihabara (2 minutes). Alternatively, take a yellow colored train without transfer all the way from Shinjuku to Akihabara (17 minutes). The one way fare is 170 yen in either case.
Orientation in Tokyo