Ueno Park (上野公園, Ueno Kōen) is a large public park next to Ueno Station in central Tokyo. The park grounds were originally part of Kaneiji Temple, which used to be one of the city's largest and wealthiest temples and a family temple of the ruling Tokugawa clan during the Edo Period. Kaneiji stood in the northeast of the capital to protect the city from evil, much like Enryakuji Temple in Kyoto.
During the Boshin Civil War, which followed the Meiji Restoration in 1868, Kaneiji suffered nearly complete destruction in a battle between the victorious forces of the new Meiji government and loyalists of the overthrown shogunate. After the battle, the temple grounds were converted into one of Japan's first Western style parks and opened to the public in 1873. A statue of Saigo Takamori, one of the generals in the Battle of Ueno, stands near the park's southern entrance.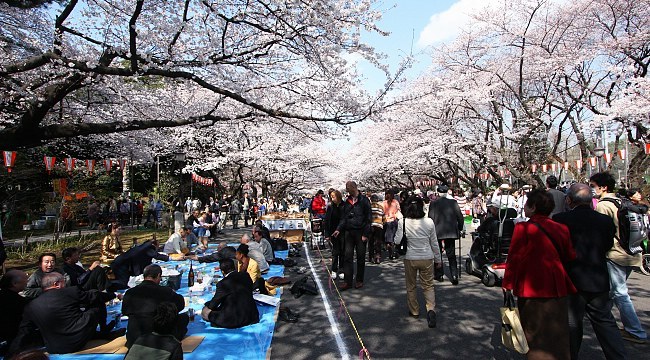 Ueno Park during the cherry blossom season
At the southwestern end of the park lies Shinobazu Pond, one of many reminders of Kaneiji Temple's former grandeur. The pond represents Lake Biwako (in a reference to Kaneiji's model, the Enryakuji Temple of Kyoto, which overlooks Lake Biwako). On an island in the middle of the pond stands Bentendo, a temple hall dedicated to the goddess of Benten.
Today Ueno Park is famous for the many museums found on its grounds, especially the Tokyo National Museum, the National Museum for Western Art, the Tokyo Metropolitan Art Museum and the National Science Museum. It is also home to Ueno Zoo, Japan's first zoological garden.
Additionally, Ueno Park is one of Tokyo's most popular and lively cherry blossom spots with more than 1000 cherry trees lining its central pathway. The cherry blossoms are usually in bloom during late March and early April and attract large numbers of hanami (cherry blossom viewing) parties.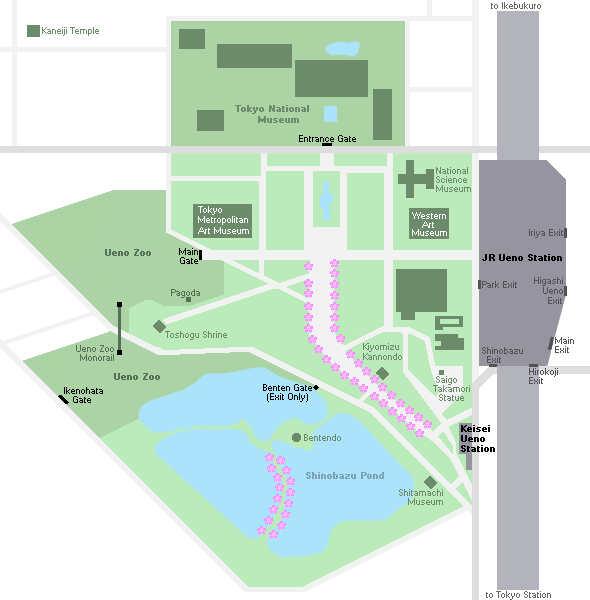 Temples and Shrines
Kaneiji Temple
Hours: 9:00 to 16:00
Closed: No closing days
Admission: Free

During the Edo Period Kaneiji Temple was one of the largest and wealthiest temples in the city. It was destroyed during the Boshin War, and remnants of the original temple complex, such as its five storied pagoda and Toshogu Shrine, are scattered around the park. The current Kaneiji is a relatively unremarkable, small temple located in a quiet neighborhood near the northwest corner of Ueno Park.
Kiyomizu Kannon Temple
Hours: 9:00 to 16:00
Closed: No closing days
Admission: Free

Kiyomizu Kannondo was originally built in 1631 as part of Kaneiji Temple. Its design, including a wooden balcony extending from the hillside, was inspired by Kiyomizudera in Kyoto. The temple is home to an image of Kosodate Kannon, the goddess of conception, and is particularly popular among women hoping to have children.
Toshogu Shrine
Hours: 9:00 to 16:30
Closed: No closing days
Admission: Free (inner shrine area 500 yen)

Ueno Toshogu Shrine was built in 1616 and is one of numerous shrines across the country that are dedicated to Tokugawa Ieyasu, the founder of the Edo Shogunate. The Ueno Toshogu Shrine used to be incorporated into Kaneiji Temple until 1868. Special entrance to the shrine's Botan Garden from Jan to mid Feb and mid Apr to early May (600 yen).
Bentendo
Hours: 7:00 to 17:00
Closed: No closing days
Admission: Free

Bentendo is an octagonal temple hall on an island in Shinobazu Pond at the southern end of the park. The temple is dedicated to Benten, the goddess of good fortune, wealth, music and knowledge. Bentendo's grounds are especially lively during the cherry blossom season when they are crowded with festival food stalls.
Museums and Zoos
Tokyo National Museum

Hours: 9:30 to 17:00 (extended hours on some Fridays and weekends)
Closed: Mondays (or following day if Monday is a holiday), Dec 24 to Jan 1
Admission: 620 yen

The oldest and largest museum in Japan, the Tokyo National Museum is made up of multiple buildings, each like a separate museum in itself. They house the largest collection of national treasures and important cultural items in the country.
National Science Museum
Hours: 9:00 to 17:00 (until 20:00 on Fridays)
Closed: Mondays (or following day if Mon is a holiday), Dec 28 to Jan 1
Admission: 620 yen

This museum covers both science and natural history with hands-on physics and robotics experiments, an impressive collection of mounted animals and a 360 degree virtual theater relocated from the Aichi Expo.
Tokyo Metropolitan Art Museum
Hours: 9:30 to 17:30 (until 20:00 on Fridays)
Closed: First and third Monday of each month, New Year holidays
Admission: Varies by exhibition

Reopened in April 2012, this museum displays all types of art in its six galleries. There is no permanent collection, but multiple concurrently held temporary exhibitions by various art groups. Some exhibitions are paid, others are free.
National Museum of Western Art
Hours: 9:30 to 17:30 (until 20:00 on Fridays)
Closed: Mondays (or following day if Mon is a holiday), Dec 28 to Jan 1
Admission: 430 yen (free on 2nd and 4th Saturday each month, and Nov 3)

This museum displays Western art, primarily by European artists. There are rotating exhibitions from the museum's collection as well as temporary special exhibitions. The museum is Japan's only building designed by Le Corbusier and is expected to become a World Heritage site in July 2016 alongside a few other buildings designed by the pioneer of modern architecture.
Shitamachi Museum
Hours: 9:30 to 16:30
Closed: Mondays (or following day if Mon is a holiday), Dec 29 to Jan 1
Admission: 300 yen

Shitamachi is the name of the artisan and merchant part of old Tokyo. This nostalgic museum has exhibits and reconstructions that show what life was like in Tokyo from the late Meiji to early Showa Periods.
Ueno Zoo
Hour: 9:30 to 17:00
Closed: Mondays (or following day if Mon is a holiday), Dec 29 to Jan 1
Admission: 600 yen (free admission on March 20, May 4 and October 1)

Opened in 1882, Ueno Zoo is Japan's oldest zoo. Its most popular residents are giant panda bears, which first moved here in 1972 on the occasion of the normalization of relations between Japan and China. The zoo temporarily had no pandas after the death of Ling Ling in 2008, but received two new baby pandas in February 2011.
Get There and Around
Ueno Park is just next to JR Ueno Station. Easiest access is provided by the station's "Park Exit".
Orientation in Tokyo