Toyosu (豊洲) is a man-made island in Tokyo close to Odaiba. It was created in the 1930s and later enlarged. The famous Tsukiji Fish Market is expected to be relocated to Toyosu in November 2016. The island also happens to be the site of the first 7-Eleven convenience store to be opened in Japan in 1974. More than 10,000 7-Eleven stores exist in Japan today.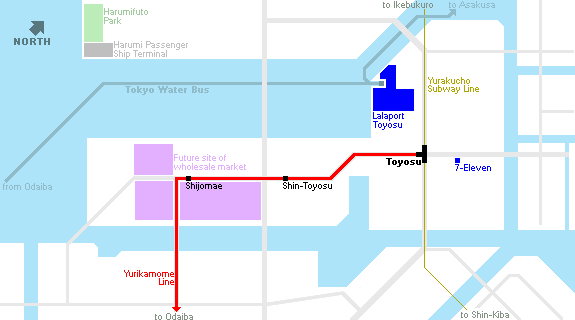 Currently, the main attraction at the island is Lalaport Toyosu, one of the largest shopping malls in central Tokyo, located by the waterfront. Lalaport has many shops carrying popular international brand names like Zara and Gap, as well as local favorites like Muji and Uniqlo. The mall also offers numerous restaurants, a cinema and a promenade by the sea, providing a relaxing atmosphere for visitors.
One popular destination at Lalaport is Kidzania, an indoor theme park where children (aged 3 to 15) can try out play-acting as different professionals like cooks or pilots. Its entrance is interestingly designed like an airport boarding gate, giving kids the impression of entering into a different world upon passing through it. Adults are only allowed to enter if they are accompanying a child.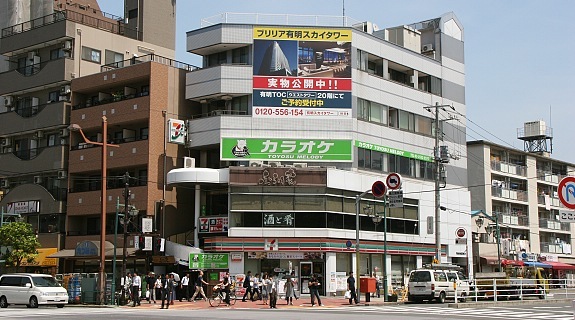 First 7-Eleven store in Japan opened in 1974
Get There and Around
Toyosu Station is served by the Yurikamome and by the Yurakucho Subway Line. Lalaport is a five minute walk from Toyosu Station. Sightseeing boats stop at the pier at Lalaport.
By Yurikamome
The Yurikamome is an automated, elevated train with rubber tires, which connects Shimbashi Station on the JR Yamanote Line with Odaiba and Toyosu. Trains depart every few minutes, and a ride between Shimbashi and Toyosu Station takes 30 minutes and costs 380 yen. If you ride the Yurikamome more than twice, a one day pass for 820 yen is likely to cost less than regular fares.
By subway
The Yurakucho Subway Line connects Toyosu to Yurakucho (8 minutes, 170 yen) and to Ikebukuro (30 minutes, 240 yen) stations on the JR Yamanote Line. If coming from Tokyo Station, take the JR Yamanote Line to Yurakucho (2 minutes, 140 yen) before changing to the Yurakucho Line.
By boat
Direct Himiko sightseeing boats from Odaiba to Asakusa stop at Toyosu along the way, however the boats in the opposite direction do not serve Toyosu. The one way ride from Odaiba to Toyosu takes 20 minutes and costs 780 yen, while that from Toyosu to Asakusa takes 40 minutes and costs 1080 yen.
Orientation in Tokyo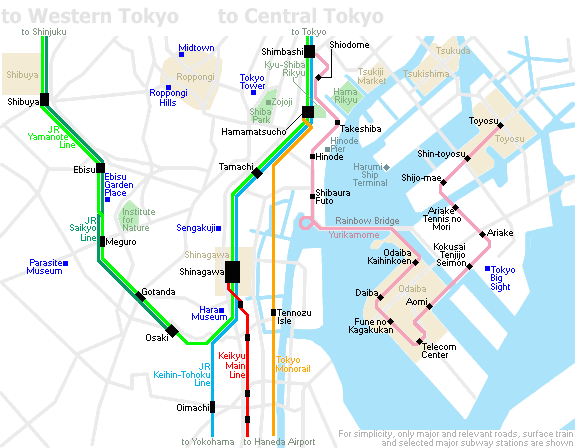 Hours and Fees
Lalaport Toyosu
Hours
10:00 to 21:00 (shops)
11:00 to 23:00 (restaurants)
Kidzania
Hours
9:00 to 15:00 (1st shift)
16:00 to 21:00 (2nd shift)
Closed
Infrequent irregular closures
Fees
From around 2000 to around 5000 yen per shift, varying according to age and season.