Tokyo Midtown is a city within the city in the center of Tokyo's Roppongi district. Opened in 2007, the complex includes apartments, offices, shops, restaurants, museums, park space and a luxury hotel. In its center stands one of Tokyo's tallest buildings, the 248 meter tall Midtown Tower.
The top floors of the Midtown Tower are occupied by the Ritz Carlton Tokyo, one of Japan's best hotels. Tourists who want to enjoy the view from the building can either stay overnight at the hotel (room rates range from 40,000 to 2,000,000 yen per night) or visit one of its high-end restaurants.
The Galleria building is an elegant 4-story shopping and dining complex that also houses the Suntory Museum of Art, one of the museums of the "Art Triangle Roppongi". Green space is found behind the buildings of Tokyo Midtown, including a pleasant Japanese style garden named Hinokicho Park.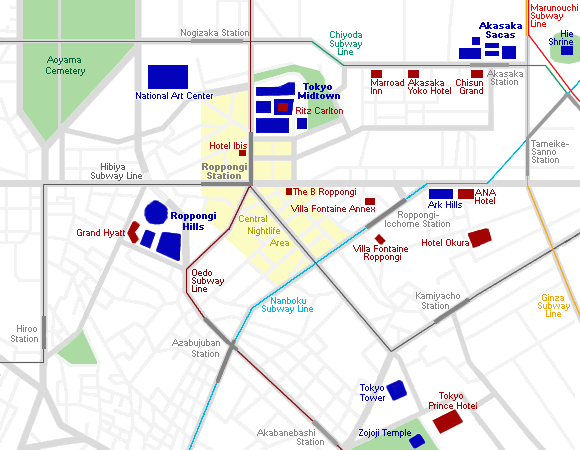 Midtown Tower

At 248 meters, Midtown Tower is one of Tokyo's tallest buildings. While office space occupies most of the building, the top floors make up the world class Ritz-Carlton Tokyo hotel and the lower floors contain conference space, a medical center and a few shops. The restaurants and bars of the Ritz Carlton are also open to non-staying guests.
Suntory Museum of Art
Hours: 10:00 to 18:00 (until 20:00 on Fridays and Saturdays)
Closed: Tuesdays, January 1, between exhibitions
Admission: varies by exhibition

The Suntory Museum of Art shows five or six exhibitions per year, which usually focus on a particular style or theme of traditional Japanese art. Bringing the joy of art to regular life has been one of the museum's guiding principles since its foundation. First opened in 1961, the museum was relocated here with the opening of Tokyo Midtown in 2007.
Galleria
Shops: typically 11:00 to 21:00
Restaurants: typically 11:00 to 24:00

Galleria is Tokyo Midtown's main shopping area, and has a large number of attractive high end shops. The building itself is very attractively designed with wooden hues, soft lighting and a spacious central walkway that extends to the top of the four story structure. Visitors can find fashion, interior design, cafes, restaurants and a 24 hour supermarket.
Hinokicho Park

Hinokicho Park is a Japanese style garden that belongs to the city and is located on the former site of a feudal lord's villa. Next to it, the Midtown Garden offers even more green space and has a number of cherry trees that flower during the cherry blossom season in late March and early April. Tokyo Midtown's various gardens make it one of the greenest city redevelopments in the capital.
Get There and Around
Tokyo Midtown is directly connected with Roppongi Station on the Oedo Subway Line. The platforms of the Hibiya Subway Line are a 5-10 minute walk away.
From Tokyo Station
15 minutes, 170 yen by Marunouchi and Hibiya Subway Lines via Kasumigaseki Station.
From Shinjuku Station
10 minutes, 220 yen by direct Oedo Subway Line.
Orientation in Tokyo