Shibuya (渋谷) is one of the twenty-three city wards of Tokyo, but often refers to just the popular shopping and entertainment area found around Shibuya Station. In this regard, Shibuya is one of Tokyo's most colorful and busy districts, packed with shopping, dining and nightclubs serving swarms of visitors that come to the district everyday.
Shibuya is a center for youth fashion and culture, and its streets are the birthplace to many of Japan's fashion and entertainment trends. Over a dozen major department store branches can be found around the area catering to all types of shoppers. Most of the area's large department and fashion stores belong to either Tokyu or Seibu, two competing corporations.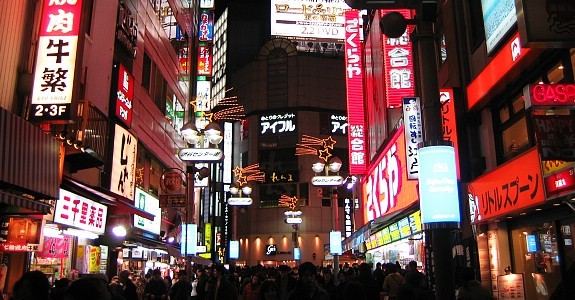 Center Gai at night
A prominent landmark of Shibuya is the large intersection in front of the station's Hachiko Exit. The intersection is heavily decorated by neon advertisements and giant video screens and gets flooded by pedestrians each time the crossing light turns green, making it a popular photo and movie filming spot.
Shibuya Station and surroundings are undergoing major redevelopment over the coming years. On the east side of the station, a new large culture, shopping and office complex, the Shibuya Hikarie, opened in spring 2012. A year later, the Tokyu Toyoko Line platforms were moved underground, enabling through-traffic with the Fukutoshin Subway Line.
Furthermore, a major redevelopment of the Shibuya Station building is now underway, including the construction of a new, 230 meter tall skyscraper to be completed by around 2020 and the move of the platforms of the JR Saikyo Line next to the platforms of the JR Yamanote Line. In addition, the pedestrian plaza on the west side of the station will be enlarged and made more pedestrian friendly in combination with a rearrangement of the bus and taxi stops. The entire project is scheduled for completion around 2027.
Famous Streets and Districts
Center Gai

The birthplace of many Japanese fashion trends, Center Gai is a busy pedestrian zone in the heart of Shibuya lined by stores, boutiques and game centers. In the evenings the street is crowded with young people heading to night clubs, restaurants and bars, or just loitering around.
Koen Dori

Koen Dori, lit. "Park Street", is a popular shopping street leading from the Marui department store to Yoyogi Park. It was named after Parco department store (parco is Italian for park) and the fact that the street leads to Yoyogi Park.
Spain Slope

Spain Slope (Supeinzaka) is a narrow, approximately 100 meter long pedestrian street with stairs leading up the slope to the Parco department store. It is lined by boutiques, cafes and restaurants, and was nicknamed for its resemblance to a Spanish street scene.
Love Hotel Hill

This area of Shibuya has a high concentration of love hotels, which offer couples a private room for a 2 to 3 hour "rest" during the day (usually around 5,000 yen) or an overnight "stay" (usually around 10,000 yen).
Tokyu Affiliated Shopping
Shibuya Hikarie
Shops: 10:00 to 21:00
Restaurants: 11:00 to 23:00

Shibuya Hikarie is a new high rise complex with cultural space just east of Shibuya Station. Besides a theater and exhibition floors, it offers office space on its upper floors and shopping and dining on its lower floors.
Tokyu
Hours: 10:00 to 20:00 (station branch until 21:00 except Sundays)
Restaurants: Typically 11:00 to 22:30
Closed: No closing days

There are two Tokyu department stores in Shibuya: the twelve floor Shibuya Station branch sits above Shibuya Station, while the ten floor main store is located a 5-10 minute walk northwest of the station.
Shibuya 109
Hours: 10:00 to 21:00
Restaurants: 11:00 to 22:00
Closed: January 1

Shibuya 109 is a trend setting fashion complex for young women and an icon of the Shibuya district with more than one hundred boutiques on ten floors. Usually pronounced "Shibuya ichi maru kyu", the complex's name can also be read as "Shibuya to kyu", identifying the complex as part of the Tokyu Group.
Shibuya Mark City
Hours: 10:00 to 21:00
Restaurants: 11:00 to 23:00
Closed: No closing days

Shibuya Mark City is a small city within the city, located just next to and connected with JR Shibuya Station. It consists of a wide range of stores and restaurants, the Shibuya Excel Hotel Tokyu, office space, a bus terminal and the terminal station of the Keio Inokashira Line.
Tokyu Hands
Hours: 10:00 to 20:30
Closed: No closing days

Promoted as a "Creative Life Store", Tokyu Hands has everything from do-it-yourself, interior, hobby, crafts, outdoors, travel goods, stationery and more. The Shibuya store spans eight floors.
Seibu Affiliated Shopping
Seibu
Hours: 10:00 to 21:00 (Sundays and holidays until 20:00)
Restaurants: 11:00 to 23:00
Closed: No closing days

The Shibuya branch of the Seibu department store chain consists of nine floors, featuring mainly fashion goods and some fashion boutiques. Restaurants can be found on the top and bottom floors.
Loft
Hours: 10:00 to 21:00
Closed: No closing days

Loft is Seibu's answer to Tokyu Hands, and also offering a large array of products related to interior, hobby, crafts and gifts, but with less emphasis on do-it-yourself products. The Loft Shibuya branch consists of seven floors.
Parco
Hour: 10:00 to 21:00
Restaurants: 11:00 to 23:30 (until 24:00 Fridays, Saturdays, and days before holidays)

Parco is a shopping complex with an emphasis on fashion. The complex consists of numerous branch stores in the Shibuya area: Part 1, Part 3, Quattro, Zero Gate and Up's-4 found mainly around Koen Dori and the Spain Slope.
Other Shopping
Marui
Hours: 11:00 to 21:00 (Sundays and holidays until 20:30)
Closed: January 1

Marui Department Store is a leading fashion retailer with branch stores in almost all of Tokyo's major districts. Their Shibuya branch stores specialize in men's and women's fashion and are found north of the station around Koen Dori.
Other Points of Interest
Hachiko Statue

A statue of a loyal dog named Hachiko. According to a famous story, the dog waited for his master every day in front of Shibuya Station, and continued to do so for years even after his master had passed away. It is one of Tokyo's most popular meeting points.
Bunkamura
Museum: Typically 10:00 to 19:00 (until 21:00 Fridays and Saturdays, entry ends 30 minutes before closing)
Shops: Typically 10:00 to 20:00
Restaurants: Typically 11:00 to 21:30
Closed: January 1

Located directly next to the Tokyu department store (main store), Bunkamura, lit. "culture village", consists of a concert hall, a theater, two cinemas, a museum with constantly changing exhibitions, and a few shops and restaurants.
Get There and Around
Shibuya Station is one of Tokyo's busiest stations. It is served by the JR Yamanote Line, JR Saikyo Line, JR Shonan Shinjuku Line, Hanzomon Subway Line, Ginza Subway Line, Fukutoshin Subway Line, Tokyu Toyoko Line, Tokyu Den-Entoshi Line, Keio Inokashira Line and the Narita Express.
Orientation in Tokyo