Nihonbashi (日本橋, literally "Japan Bridge") is a city district of Tokyo, just north of Ginza and northeast of Marunouchi and Tokyo Station. The bridge, after which the district is named, has been the kilometer zero marker for Japan's national highway network since the early Edo Period.
Formerly a wooden bridge, the Nihonbashi was reconstructed in stone during the Meiji Period, and was covered by an expressway in the 1960s. You can cross a partial 1:1 replica of the original wooden bridge in the Edo-Tokyo Museum in Ryogoku, while a half sized replica of the bridge connects the fourth and fifth floors of the International Terminal at Haneda Airport.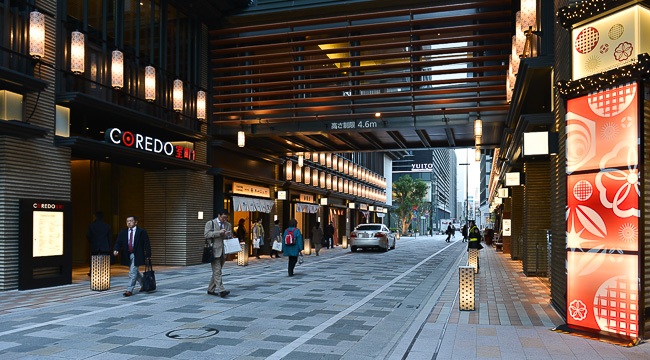 Coredo Muromachi
As the "center of Japan", the Nihonbashi district has enjoyed much commercial prosperity over the centuries, and the area has flourished with bustling shops lining the streets and shipping canals (most of which have been filled in in the meantime). Many shops with centuries-long histories are still operating in the district today and make for pleasant strolls. During the Edo Period (1600-1867), the Mitsui family, one of the most powerful merchant families, opened a highly successful textile shop, the Echigoya, in Nihonbashi. Its successor, the Mitsukoshi Nihonbashi, became Japan's first department store and still stands in the district's center.
Recent redevelopment projects have revitalized the Nihonbashi district with tasteful new additions. A highlight is the Coredo Muromachi complex with its three elegant skyscrapers that feature shopping and dining in a modern, yet traditional design inspired by the Edo Period heritage of the merchant district. Many of its shops specialize in traditional crafts or local foods from across Japan, such as lacquerware, gold leaf, knives, chopsticks, sake, katsuobushi, seaweed and sweets.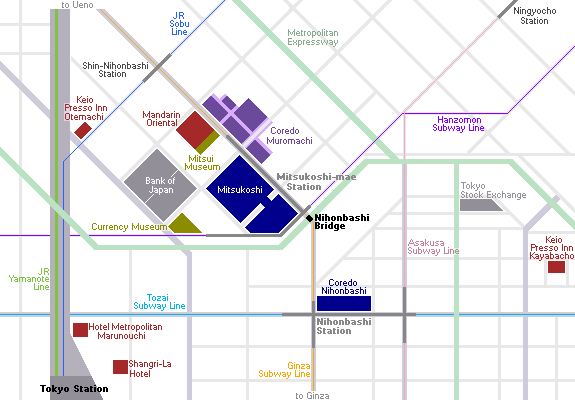 Shopping and Dining
Mitsukoshi Nihonbashi
Shops: 10:00 to 19:00 (basement through third floor until 19:30)
Restaurants: 11:00 to 22:00

The first department store in Japan, construction of Mitsukoshi's current seven story flagship store was completed in 1935, and was later designated as a historic structure in 1999. There is an adjacent 10 story annex building that has direct connections on a few floors. It is possible to spend an entire day shopping here, and many of its shops are decidedly high end.
Coredo Muromachi
Shops: typically 10:00 to 21:00
Restaurants: typically 11:00 to 23:00
Closed: typically January 1

Located just across the street from the Mitsukoshi department store, Coredo Muromachi is a newly redeveloped shopping and dining complex comprising of multiple elegant skyscrapers. The trendy area has a modern, yet traditional style inspired by the district's past. Many of its stores offer traditional goods and foods from across Japan, and some have operated in the district for many centuries.
Coredo Nihonbashi
Shops: 11:00 to 21:00
Restaurants: 11:00 to 23:00
Everything closes one hour earlier on Sundays and national holidays
Closed: January 1

Located just beside Nihonbashi Subway Station, Coredo's approx. 50 shops and restaurants are spread across the lower five floors of the large building.
Museums
Mitsui Memorial Museum
10:00 to 17:00 (entry until 16:30)
Closed: Mondays (or following day if Monday is a national holiday)
Admission: 1000 yen (or 1300 yen for special exhibition)

The museum has elegant exhibition galleries in which objects are displayed from the art collection of the Mitsui family, the same family that opened the nearby Mitsukoshi department store. The museum was opened in 2005 and has regularly changing themed exhibitions and a reconstruction of a teahouse. It is located in the Mitsui Tower complex that also houses the Mandarin Oriental on its top floors.
Currency Museum
Hours: 9:30 to 16:30 (entry until 16:00)
Closed: Mondays (except national holidays), December 29 to January 4
Admission: Free

Located in an annex building across the street from the Bank of Japan, the museum was opened in 1982 to commemorate the bank's centenary. A detailed history of currency in Japan is displayed, and there are plenty of interesting historical coins and bills on display.
Get There and Around
Nihonbashi Station on the Ginza, Tozai and Asakusa Subway Lines or Mitsukoshimae Station on the Hanzomon and Ginza Subway Lines bring you into the very center of the Nihonbashi district. Nihonbashi can also be accessed in a 5-10 minute walk from the Nihonbashi Exit of Tokyo Station.
Orientation in Tokyo