Kanda (神田) is a city district of Tokyo, northeast of the Tokyo Imperial Palace. It is not a prime tourist district, but more of a typical local district with residential areas and numerous universities. Kanda has traditionally been an academic center, and is therefore frequented by young people. It used to be the site of a Confucian school which is survived by the Yushima Seido, a shrine dedicated to the great Chinese philosopher.
Nevertheless, the district offers several interesting neighborhoods, such as the Ochanomizu musical instrument area, the Jimbocho book area and the famous electronics and anime mecca Akihabara. Kanda is also home to the Kanda Myojin Shrine and its Kanda Festival, one of Tokyo's three most important festivals.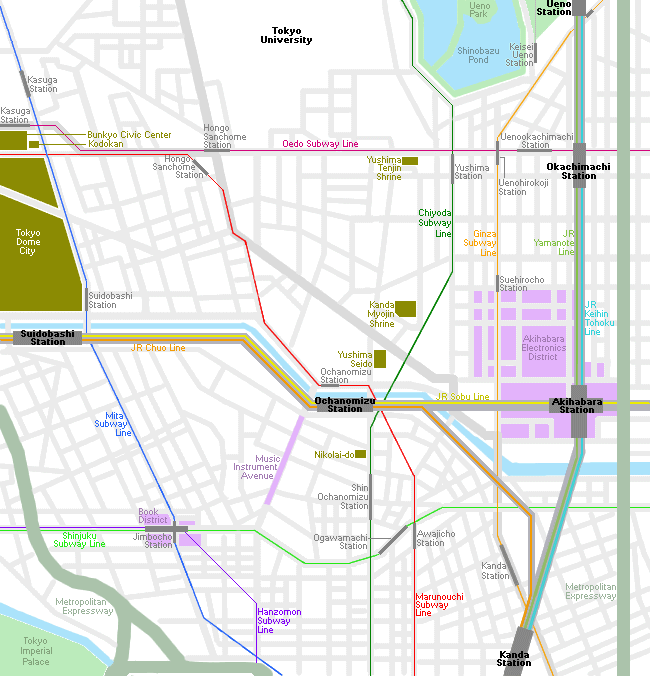 Places of Interest
Kanda Myojin Shrine
Hours: Always open
Closed: No closing days
Admission: Free

Kanda Myojin Shrine enshrines three deities: Daikokuten – the god of good harvest and matrimony, Ebisu – the god of fishermen and businessmen, and Taira Masakado – a feudal lord of the 10th century who was revered and deified. People visit the shrine to pray for prosperity. The Kanda Festival, reputedly one of the three great festivals of Japan, is the festival of the Kanda Myojin Shrine.
Yushima Seido
Hours: 9:30 to 17:00 (until 16:00 in winter)
Closed: August 13-17 and December 29-31
Admission: Free (200 yen to enter the main hall on weekends)

Yushima Seido is a shrine dedicated to the Chinese scholar Confucius. Confucianism was the state philosophy of the later Edo Period (1603-1867), and the shrine used to be part of a Confucian school. The shrine buildings are covered in black laquer, making for a unique, striking appearance. The shrine grounds are open everyday and also feature a bronze statue of Confucius. The interior of the main hall, however, is only open on weekends and national holidays.
Yushima Tenjin Shrine
Hours: 6:00 to 20:00
Closed: No closing days
Admission: Free

Yushima Tenjin Shrine is located just five minutes on foot southwest of Ueno Park's Shinobazu Pond. Like all Tenjin shrines, Yushima Tenjin is dedicated to Sugawara Michizane, the deity of scholarship. Around February and March each year, the shrine holds a plum festival to celebrate the blooming of its many plum trees.
Nikolai-do (Saint Nicolai Church)
Hours: 13:00 to 15:30 (until 16:00 from April through September)
Closed: Some irregular closing days
Admission: 300 yen donation

Nikolai-do is the main cathedral of the Japanese Orthodox Church. The current building was reconstructed in 1929 after the original cathedral built in the 19th century had been seriously damaged in the 1923 Great Kanto Earthquake. Nikolai-do has been popular since the Meiji Period for its Russian architecture featuring a dome roof and a bell tower.
Ochanomizu Music Instrument Avenue
Hours: Typically 11:00 to 20:00 (from 10:00 to 19:00 on Sun and national holidays)
Closed: Varies by store

The Ochanomizu Music Instrument Avenue is located just south of Ochanomizu Station. For approximately 500 meters it is lined by stores selling musical instruments and music-related items.
Jimbocho Book Town
Hours: Typically 10:00 to 18:30
Closed: Many shops close on Sundays and national holidays

The neighborhood of Jimbocho offers a large concentration of bookstores selling the latest titles as well as old or second hand books. The bookstores lend a scholarly atmosphere to Jimbocho, where a laid-back afternoon may also be spent at one of the several cafes in the area.
Get There and Around
Ochanomizu Station on the JR Chuo Line, JR Sobu Line and Marunouchi Subway Line is the closest station to most of the district's places of interest. It can be reached by JR Chuo Line from Tokyo Station in five minutes and 140 yen or from Shinjuku Station in ten minutes and 170 yen.
Orientation in Tokyo