The Ginza (銀座) is Tokyo's most famous upmarket shopping, dining and entertainment district, featuring numerous department stores, boutiques, art galleries, restaurants, night clubs and cafes.
One square meter of land in the district's center is worth over ten million yen, making it one of the most expensive real estate in Japan. It is where you can find the infamous $10 cups of coffee and where virtually every leading brand name in fashion and cosmetics has a presence.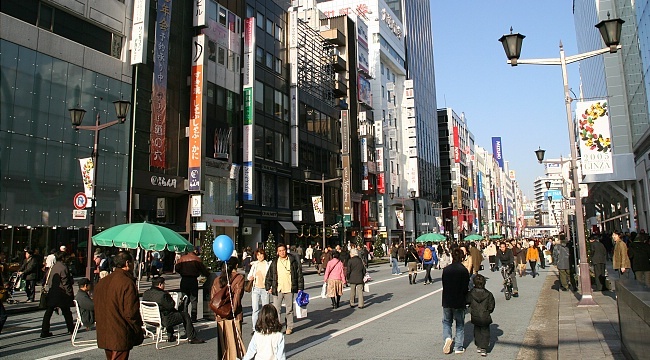 Chuo Dori street on a weekend afternoon
From 1612 to 1800, today's Ginza district was the site of a silver coin mint (Ginza means "silver mint" in Japanese), after which the district was eventually named. The Ginza evolved as an upmarket shopping district following the 1923 Great Kanto Earthquake.
Most shops in the Ginza district are open every day of the week. A visit is most pleasant on weekend afternoons when the central Chuo Dori street is closed to automobile traffic and become a large pedestrian zone. The road closure takes place from 12:00 to 17:00 (until 18:00 from April through September).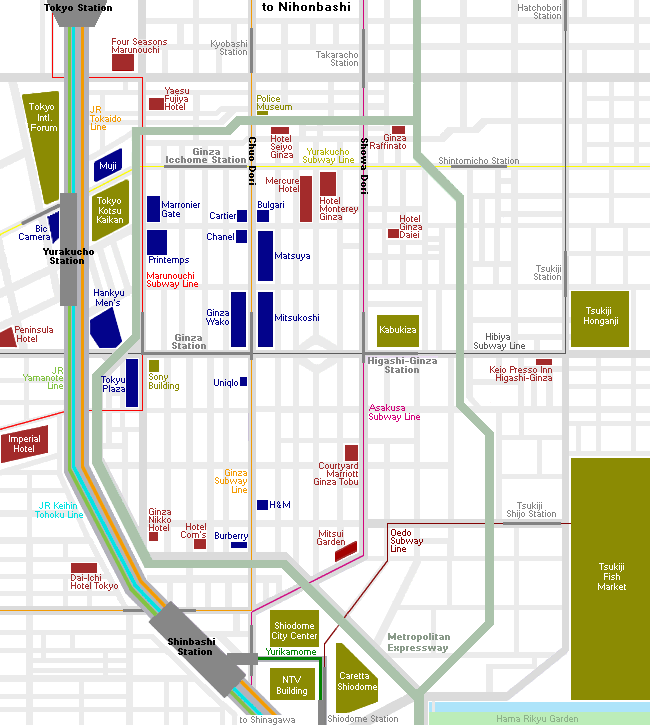 Points of Interest
Ginza Wako

Shops: 10:30 to 19:00

Built in 1932, the clock tower of the Ginza Wako building is the symbol of the Ginza, standing at the northwest corner of the district's centrally located Ginza 4-Chome junction of Chuo and Harumi Dori. Inside the building, jewelry and luxury items are sold.
Sony Building
Showroom and shops: 11:00 to 19:00
Restaurants: typically 11:00 to 21:30

The newest products by Sony, including DVD recorders, televisions, cameras, audio sets, mobile phones, computers and Play Station products, are displayed to the public in the showrooms in this building. There is also a tourist information desk on the first floor as well as a few shops, restaurants and cafes.
Kabukiza Theater

Regular tickets for an entire play typically cost between 4,000 and 22,000 yen depending on the seat and require advance reservations. Tickets for just single acts are sold on the day at the theater for around 2,000 yen.

The Kabukiza is one of the best places to see kabuki, featuring plays almost every day. The building was reconstructed and reopened in April 2013. It closely resembles its predecessor except for a skyscraper that now stands above it.
Yurakucho Gado-shita Dining

One of Tokyo's most interesting dining districts is located beneath the elevated train tracks north and south of Yurakucho Station (in Japanese: Gado-shita from "below the girder"). Stretching over about 700 meters, dozens of restaurants are built into the brick arches below the Yamanote Line, ranging widely from small yakitori joints and izakaya to beer halls and slightly more upscale French wine bars.
Police Museum
10:00 to 18:00
Closed: Mondays (or following day if Mon is a holiday), Dec 28 to Jan 4
Admission: Free
English: None (a free informative English booklet is available, however)

Located just outside of the Ginza area to the north, the four floor Police Museum is operated by the Tokyo Metropolitan Police Department and is free of charge. Although there are no English explanations, displays such as historical uniforms and equipment can be easily understood.
Department Stores & Malls
Mitsukoshi
Shops: 10:30 to 20:00
Restaurants: typically 11:00 to 23:00

The Ginza store of the Mitsukoshi department store chain was opened in 1930 and offers goods and services on twelve floors. Mitsukoshi's history reaches back to the year 1673.
Matsuya
Shops: 10:00 to 20:00
Restaurants: typically 11:00 to 22:00

The Ginza store of the Matsuya department store chain offers fashion, foods, household goods, a pet shop, a travel agency and an exhibition hall on its eleven floors.
Printemps

11:00 to 21:00 (until 20:00 on Sundays)

The Ginza store of the Paris based Printemps department store chain offers fashion, accessories, wines, foods and restaurants on ten floors. Printemps Ginza was opened in the year 1984.
Marronnier Gate

Daily 11:00 to 21:00 (restaurants operate until 23:00)

The 12 floor Marronnier Gate shopping mall opened in 2007 close to Yurakucho Station. Clothing stores are located from the basement to the fourth floor, while the top three floors are taken up by restaurants. From the fifth floor to the ninth floor, the building is occupied by the Ginza branch of the popular Tokyu Hands department store.
Tokyu Plaza Ginza

Daily 11:00 to 21:00 (restaurants until 23:00)

Opened in 2016, the Tokyu Plaza Ginza shopping complex features 14 floors of shopping and dining, including two floors of tax free shopping for foreign tourists and an interesting open rooftop with views over the city.
Get There and Around
The most convenient stations for accessing the Ginza district are Ginza Station on the Hibiya, Marunouchi and Ginza Subway Lines and Yurakucho Station on the JR Yamanote Line, JR Keihin-Tohoku Line and Yurakucho Subway Line.
Orientation in Tokyo