Important Notice

The Ghibli Museum closes for maintenance from May 9 to July 15, 2016
The Ghibli Museum (三鷹の森ジブリ美術館, Mitaka no Mori Ghibli Bijutsukan) is the animation and art museum of Miyazaki Hayao's Studio Ghibli, one of Japan's most famous animation studios. They have produced many feature length films with worldwide distribution such as My Neighbor Totoro, Princess Mononoke, Spirited Away and Ponyo on the Cliff by the Sea.
Located in Mitaka, just outside of central Tokyo, the museum is a must-see for fans of the films. The museum itself is whimsically designed in the distinct style of the studio's films, and many of their famous characters are there, including a life-sized robot from "Castle in the Sky" on the rooftop garden.
The first floor of the museum exhibits the history and techniques of animation and has as a small theater which shows short movies by Studio Ghibli that are exclusive to the museum. The second floor houses special temporary exhibitions. The museum also has a cafe, children's play area, a rooftop garden and a gift shop.
Get There and Around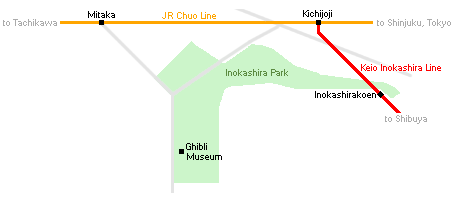 The museum can be reached from Mitaka Station on the JR Chuo Line (15 minutes, 220 yen from Shinjuku Station). There are shuttle buses from the station to the museum (210 yen one way, 320 yen roundtrip, children are half price), while a taxi ride costs about 750 yen. Alternatively you can walk in about 20 minutes from Mitaka Station or from Kichijoji Station through Inokashira Park.
Orientation in Tokyo
Hours and Fees
Hours
10:00 to 18:00 (advance reservations required)
Closed
Tuesdays and over the New Year holidays
Periodic closures for maintenance
Fees
1000 yen for adults with discounted prices for children
Tickets are not sold at the museum and must be purchased in advance:
Purchasing online
Tickets can be purchased online through Voyagin (ticket only) or Japanican (ticket and guided tour), but cost considerably more than the regular admission fee of 1000 yen per person.
Purchasing from outside of Japan
Tickets can be purchased from overseas offices of JTB. Tickets for a given month go on sale three months in advance on the 1st of the month. You will be given a voucher with a specified entry date printed on it. You can exchange the voucher at the museum for your ticket (passport required) at anytime during your entry day.
Purchasing from within Japan
Tickets can be bought from Lawson convenience stores within Japan using their Loppi automatic ticket machines. Tickets for a given month go on sale on the 10th of the preceding month. A specific entry date and time slot must be selected when purchasing your ticket. While weekends and school holidays are extremely popular and are often sold out, weekday tickets are easier to get.