Asakusa (浅草) is the center of Tokyo's shitamachi (literally "low city"), one of Tokyo's districts, where an atmosphere of the Tokyo of past decades survives.
Asakusa's main attraction is Sensoji, a very popular Buddhist temple, built in the 7th century. The temple is approached via the Nakamise, a shopping street that has been providing temple visitors with a variety of traditional, local snacks and tourist souvenirs for centuries.
Asakusa can easily be explored on foot. Alternatively, you can consider a guided tour on a rickshaw (jinrikisha, literally "man powered vehicle"). A 30 minute tour for two persons costs around 9000 yen. Shorter and longer courses are also available.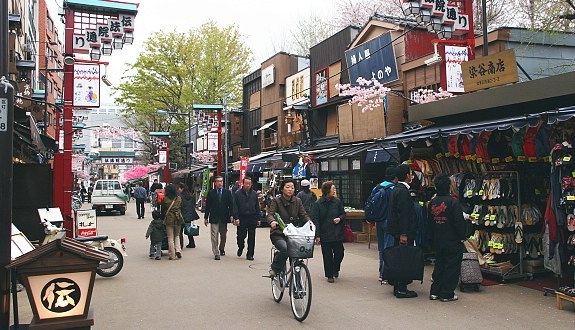 Dempoin Dori (Dempoin Street)
For many centuries, Asakusa used to be Tokyo's leading entertainment district. During the Edo Period (1603-1867), when the district was still located outside the city limits, Asakusa was the site of kabuki theaters and a large red light district. In the late 1800s and early 1900s, modern types of entertainment, including movie theaters, set foot in Asakusa.
However, large parts of Asakusa were destroyed in the air raids of World War Two. And while the area around the rebuilt Sensoji has regained its former popularity after the war, the same cannot be said for Asakusa's entertainment district. The opening of the 634 meter tall Tokyo Skytree, a twenty minute walk across the Sumida River from Asakusa, has led to an increase of tourists recently.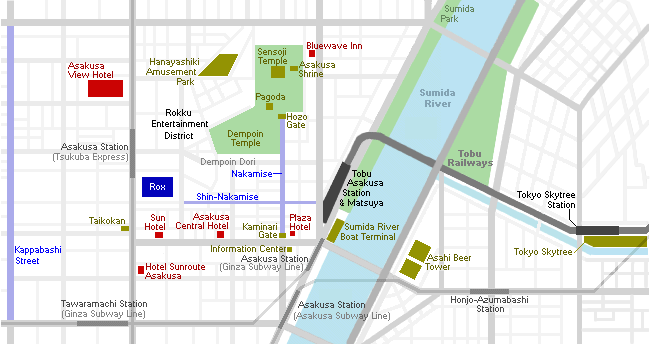 Temples and Shrines
Kaminarimon (Kaminari Gate)
Hours: Always open
Admission: Free

Kaminarimon is the first of two large entrance gates leading to Sensoji Temple. First built more than 1000 years ago, it is the symbol of Asakusa. The Nakamise shopping street leads from Kaminarimon to the temple grounds.
Sensoji Temple

Hours: 6:00 to 17:00 (from 6:30 October to March)
Admission: Free

Sensoji ("Senso" is an alternative reading for Asakusa and "ji" means temple) is Tokyo's most famous and popular temple. Built in the 7th century, it is also one of its oldest, although the current buildings are postwar reconstructions.
Asakusa Shrine
Hours: Always open
Admission: Free

Asakusa Shrine, also known as Sanja-sama, was built during the Edo Period and survived the air raids of 1945. The shrine's festival, the Sanja Matsuri, is one of Tokyo's most spectacular and popular. It is held every year on a weekend (Friday to Sunday) in mid May.
Dempoin Temple

Not usually open to the public

Dempoin is a temple just next to Sensoji, known for its beautiful garden. Unfortunately, the temple and garden are not open to the public. Visiting the garden by appointment, as it used to be possible, cannot be done anymore, either.
Shopping
Nakamise Shopping Street

Hours depend on the individual shops; typically daily from 9:00 to 19:00

The Nakamise shopping street stretches over approximately 250 meters from Kaminarimon to the main grounds of Sensoji Temple. It is lined by more than 50 shops, which offer local specialties and the usual array of tourist souvenirs.
Shin-Nakamise Shopping Street

Hours depend on the individual shops; typically daily from 10:00 to 20:00.

Shin-Nakamise or "New Nakamise" runs perpendicular to the Nakamise Shopping Street. It is a covered shopping arcade lined by various shops and restaurants.
Kappabashi Shopping Street

Hours: Most shops open from 9:00 to 17:00
Closed: Many shops are closed on Sundays and national holidays

Kappabashi is an almost one kilometer long street lined by shops catering to restaurant businesses. Items on sale include tableware, kitchen utensils and appliances, sample food, furniture, signs, lanterns and uniforms.
Rox Department Store
Shops: Daily 10:30 to 21:00 (supermarket is open 24 hours)
Restaurants: Daily 11:00 to 22:00

Rox is a shopping and entertainment complex consisting of a main building (Rox) and three annex buildings (Rox2G, Rox3 and Rox Dome). Many shops sell fashion for ladies and kids. There is a 24h supermarket in the basement.
Tobu Asakusa Station & Matsuya Department Store

Matsuya department store is open daily from 10:00 to 20:00

Tobu Asakusa Station is the terminal station of Tobu trains heading into the suburbs and prefectures north of Tokyo, including trains to Nikko. The station building also houses a Matsuya department store that spans eight floors.
Other Attractions
Asakusa Culture Tourist Information Center
Hours: 9:00 to 20:00
Closed: No closing days

The Asakusa Culture Tourist Information Center was newly opened in 2012, adding diversity to the streets of Asakusa with its interesting architectural design. The eight story building offers a counter providing tourist information in multiple languages, free wifi connectivity, a cafe, and an observation deck which provides good views looking onto Sensoji Temple and the Nakamise Shopping Street.
Sumida River Cruise

Tokyo Water Bus operates sightseeing ships every 30 to 60 minutes from Asakusa Pier via Hama Rikyu Garden to Hinode Pier, where you can transfer to a ship to Odaiba. In addition, there are less frequent, direct ships from Asakusa to Odaiba.
Sumida Park
Hours: Always open
Admission: Free

This riverside park stretches along both sides of Sumida River for several hundred meters. In spring it becomes a popular cherry blossom viewing spot, while on the last Saturday of July it becomes the site of the Sumida River Firework.
Rokku Entertainment District

Opening hours depend on the individual businesses

Rokku used to be Tokyo's leading entertainment district before the war, hosting Japan's first cinema and more. However, the district has not regained its former popularity after the war. Today, Rokku offers attractions such as rakugo theaters, cinemas and pachinko parlors.
Hanayashiki Amusement Park
Hours: 10:00 to 18:00 (longer hours during holidays)
Admission: 1000 yen plus separate fees for rides

Originally opened as a flower park, Hanayashiki has a history of more than 150 years. Located just a few steps from Sensoji, the miniature amusement park offers numerous attractions, including a small Ferris wheel, roller coaster, carousel and Space Shot.
Asahi Beer Tower

Restaurants open daily from 11:30 to 22:00

The Asahi Beer Tower and Asahi Super Dry Hall with its characteristic Flamme d'Or were, completed in 1989 and host the headquarters of Asahi Breweries. Furthermore, several restaurants can be found in the complex.
Taikokan (Drum Museum)
Hours: 10:00 to 17:00
Closed: Mondays, Tuesdays, New Year and Obon
Admission: 500 yen

Drums from around the world, including Japanese taiko drums, are exhibited in this small museum. Visitors can play several of the drums. The museum is located in a floor above the Miyamoto Unosuke Nishi Asakusa store, which sells Japanese drums and festival goods.
Get There and Around
Asakusa is served by the Ginza Subway Line, Asakusa Subway Line, Tsukuba Express and Tobu Railways. It can also be accessed by the Tokyo Water Bus.
From Tokyo Station
Take the JR Yamanote Line to Kanda Station (2 minutes, 140 yen) and transfer to the Ginza Subway Line for Asakusa (10 minutes, 170 yen).
From Shinjuku Station
Take the orange JR Chuo Line to Kanda Station (10 minutes, 170 yen) and transfer to the Ginza Subway Line for Asakusa (10 minutes, 170 yen).
Orientation in Tokyo